Spanish startup decelerator Menorca Millennials will take select startups to Mexico, so they can reflect, relax, and be inspired in "paradise."
In addition to the traditional trip to the island of Menorca, which will enter its fifth edition next year, Menorca Millennials will also take a select group of global tech startups to converge in Mexico to pause, connect with creativity, get inspired, focus on sustainable objectives, and raise smart capital to hyper-accelerate their business models with a global scale.
Menorca Millennials has announced that a new edition of the decelerator will be held in "a paradisiacal area of ​​Mexico," although it has not specified the location, and has detailed that more than 30 international startups will participate with the goal of "reflecting and inspiring" to scale their business.
Read More: How Menorca Millennials helped startups draw back in order to make a better jump
This new edition, which will be held from October 18 to 28, 2019, will begin its internationalization plan and will develop a program in Mexico.
"During these two weeks we are looking for lower routines and emails. The deceleration is done on the routines, "explained Menorca Millennials Co-Founder and CEO Marcos Martín to EFEemprende, adding that "a company that goes through a decelerator comes out stronger and better."
In an interview with Notimex, Martín added, "In Mexico we will do something similar to what we do in Menorca, at least 90 percent, and in a paradise that will be in the Mexican Atlantic.
"The idea is to attract entrepreneurs from Latin America, along with the 'experience makers' that will come of the United States."
Martín explained that the idea is to join a group of between 15 and 25 companies, which is a small number, but since it is the first time it is a test, with an equal number of "experience makers," some of whom have already been in Menorca.
The Co-founder and CEO of Menorca Millenials explained that in Latin America the startup ecosystem is slower than in the north, although there are already good projects.
"In the end we believe that we have a good position to understand Latin America, we already have a confidence generated in the ecosystem and Mexico seems like the ideal place to attract companies from the south and bring in the big investors from the north," he said.
The Spanish startup decelerator CEO added that Mexico is one of the leading countries for startups in Latin America right now.
"We saw a great opportunity in Latin America because there is a lot of talent and many startups there," said Martín to EFEemprende.
Thus, the idea of ​​the decelerator is to attract Latin American entrepreneurs, although, they say, they are "trying to have the participation of some from Silicon Valley."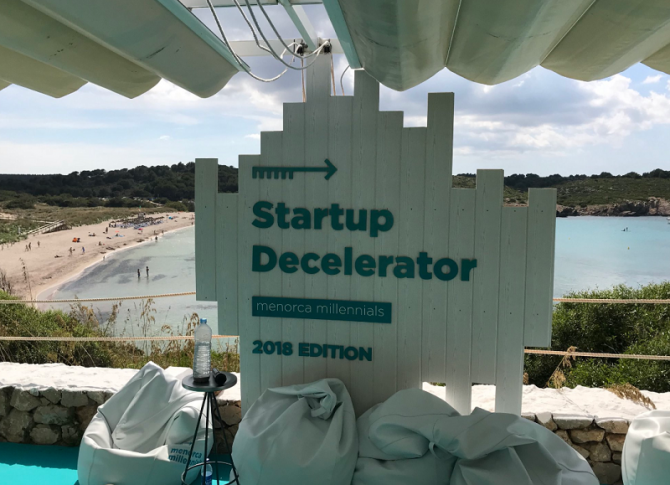 The main objective of Menorca Millennials is to propose a complementary offer to all incubators and accelerators, as well as to analyze the business model and the human factor and the teams.
For this, they develop the program in three parts:
The arrival of the startups and the relationships that are forged between them.
The talks, mentoring, challenges and activities that are proposed to them.
The investment and the "1to1s" with innovation teams from different companies.
"In these [past] years, alliances have been made with companies such as Amazon, Google or Pepsi Co. They not only sponsor and relate their brand with innovation, but they go to the program and participate to meet the startups, and this facilitates the relationship between them for future commercial projects," Martín pointed out.
Since its last edition, Menorca Millenials has evolved to become the first ecosystem of technological innovation focused on deceleration and sustainability, focusing on how to make a better world.
Since 2018 startups wishing to participate must be aligned with any of the 17 Sustainable Development Goals (SDGs) of the United Nations.
The program works so that the chosen projects are economically and environmentally sustainable, and socially inclusive. Since 2015, 1,300 companies have applied to participate in the program and 90 startups have been slowed down achieving a total investment of more than 74 million euros (86.6 million dollars).