As with VC funding globally, investment activity across Europe remains quiet. The most recent data from Crunchbase shows that overall investment activity for Q3 2023 was up by a promising 28% since last quarter, however there has been no significant year-on-year increase as of yet.
Of the $16.4 billion raised by European startups in 2023 so far, late-stage startups account for the majority of deal activity. In contrast, seed and early-stage startups are facing a worrying drought in capital and investor interest.
But without a foundation of innovative new startups Europe's startup pipeline could be at risk. If early-stage ideas aren't able to get off the ground, momentum across all deal stages will plummet along with the potential for high-value exits. 
But generating more interest in early-stage European startups from investors and VC funds is easier said than done. A recent survey from HBR found that VC funds review 101 potential investment opportunities for each deal they close. Completing standard processes for each review is often highly time-consuming, with 118 hours required on average just to complete due diligence checks.
Kevin Siskar, founder of Finta, started the enterprise to help streamline these processes with an AI-powered, end-to-end fundraising platform.
Seeding the idea for Finta
Kevin Siskar is no stranger to the process that investors go through behind the scenes in order to build a successful investment portfolio.
Before Finta, Siskar was the Director of the NYC chapter of the Founder Institute, and he is a pre-seed investor with Firehouse Ventures.
After backing over 160 early-stage tech startups he saw the pressing need for a solution that would streamline fundraising for both founders and investors. 
With inside knowledge of every process involved with prospecting deals and the common pain points that create delays and frustrations, Siskar built a bespoke CRM system that caters directly to the realities of financing startups.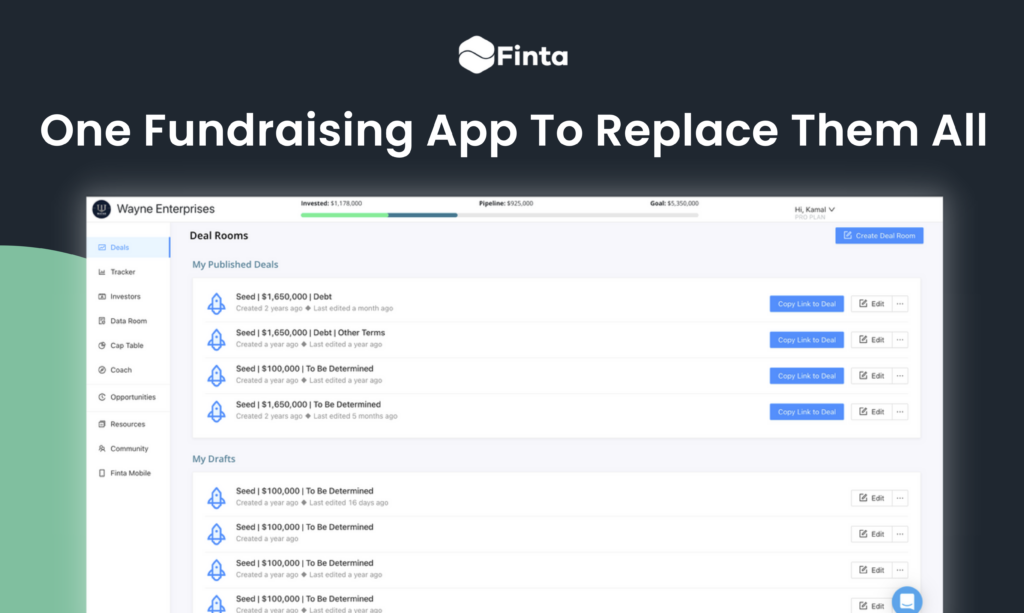 Connecting investors with more early-stage startups
Finta's offers investors an AI-powered CRM platform that saves a significant amount of time and brain power, managing the process from end-to-end and automating tasks where appropriate.
For investors, these individuals need to continuously connect with startups to generate a healthy deal flow that will then go through more stringent evaluation. Finta lets investors access all this information in one place. The platform automatically organizes key data points like cap tables, along with all due diligence materials which makes it much more quick and efficient to review potential deals being considered. 
This approach also means investors can support more deals in the future thanks to the huge amounts of time saved throughout the whole prospecting process. Not only can investors review more potential deals more quickly, but once deals have been made Finta helps to manage these investments and the relationships with founders in the portfolio. 
Finally, Finta can also help investors support the startup community more easily. For example, not every deal considered will be financed, but investors can easily make warm introductions to other investors within a similar industry who might be interested in providing funding instead.
New solutions for the VC industry like Finta provide a way to address the decline in deals Europe's early-stage startups, boosting their ability to connect and communicate with relevant investors and VC funds.