The pandemic has profoundly changed the way we live, work, and travel, and this has resulted in an exponential increase in demand for second homes. However, 75% of potential homeowners find it difficult to purchase a second home. Factors such as price, maintenance costs, the amount of red tape involved, and the risk of having a home unoccupied for almost eleven months of the year are putting people off making this kind of investment.
Vivla, the fractional home ownership startup that facilitates the flexible purchase of second homes, has just raised €26 million in a pre-seed funding round, with the aim of becoming the European leader in this new real estate category.
As a result of this round, Vivla is now the highest funded fractional home ownership startup in Europe. The investment round is led by Pan-European fund Samaipata with participation from New York-based FJ Labs (the world's leading marketplace venture fund), UK fintech hedge fund Fasanara, Accel, and Extension Fund. It also involves a very select group of business angels and successful entrepreneurs such as Chelsea football player César Azpilicueta, several early Airbnb employees such as Kintxo Cortés (who co-invests along with Accel), key players in the financial and technology sector such as Nathalie Picquot, prominent members of Endeavor such as Adrián Garcia-Aranyos, and CEOs of well-known startups such as Spotahome, Ironhack, ThePowerMBA, Constella, Ticketea, Tiko, Ukio and Smartick.
A long journey of three founders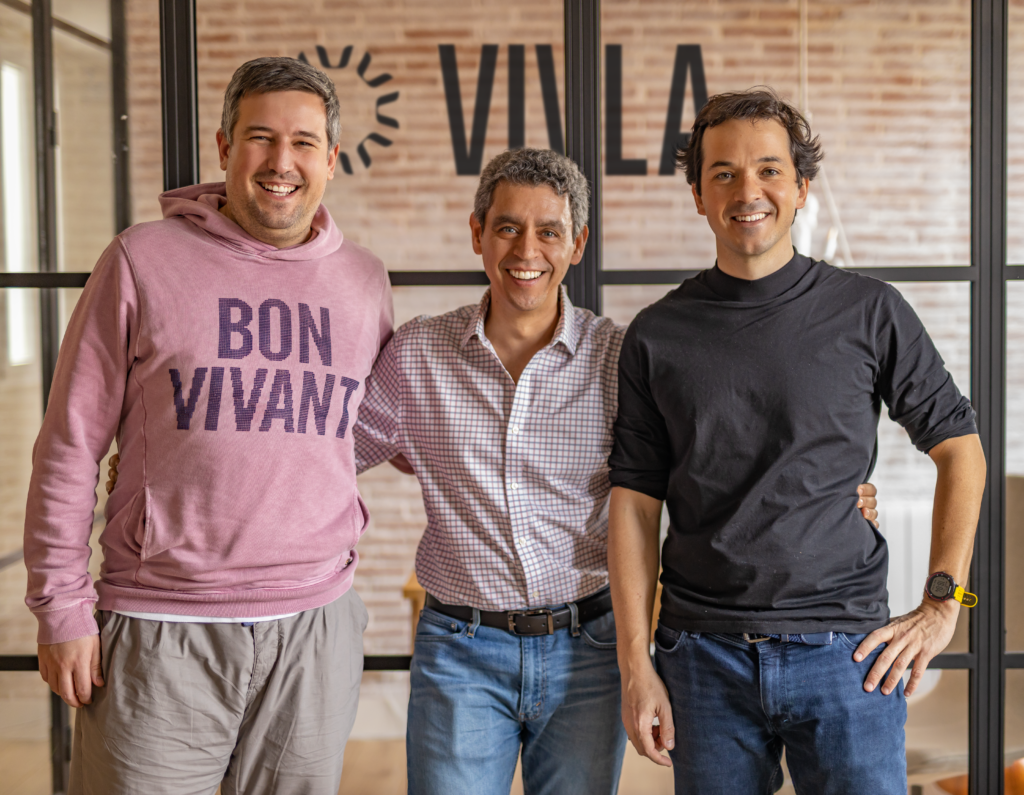 The company's three founders, Iván Rodríguez, Carlos Floría and Carlos Emilio Gómez, are entrepreneurs with extensive experience in the technology sector. Iván Rodríguez co-founded Parclick, which was sold to the Italian group FAAC in 2019. Carlos Floria managed the debt fund of Inveready for years before founding his own startup, Gazella. Additionally, after many years working for Google, Carlos Emilio Gómez, co-founded 7r, a Spanish corporate venture builder, which has invested in Vivla and through which he previously founded three other proptech startups in partnership with large real estate companies such as Savills Aguirre Newman, Sareb and Pryconsa. Two of these companies were sold in 2021.
Carlos Emilio Gomez, the CEO and co-founder of Vivla, says: "Fractional homeownership is a new category of real estate that is set to transform the second home sector. It was created in response to changing social consumption patterns and the bursting post-Covid demand that has created a new generation of buyers looking to enjoy the benefits of homeownership while avoiding the hassles and constraints that typically come with it. Additionally, fractional ownership promotes a more sustainable real estate and touristic model, enabling owners to fully occupy their property every month of the year".
In southern Europe alone, there are 18 million homes which are occupied only 15% of the time, while millions of Europeans are looking for homes for long-term stays in the same areas. Fractional homeownership is therefore the perfect solution for them.
Strong legal and financial foundation
Vivla is an innovative real estate model which allows any person to become the legal owner of any property and enjoy it in a flexible way, without having to buy the full property. Vivla has developed an innovative legal framework in collaboration with Garrigues, the #1 legal firm in Spain with extensive international experience. A family could invest €300,000 in an exclusive €2.4 million villa in Ibiza and be able to use it for six weeks each year. They would not have to worry about managing the property, maintenance costs would be shared, and they would be able to liquidate their investment at any time.
The large funding round will allow Vivla to become a strong real estate buyer in the local markets, with plans to transact €100M in home purchases in the next 24 months. Vivla will partner with the most exclusive local developers and agencies, to select and certify the best properties in each destination. As Carlos Gómez says: "This allows us to offer our clients a unique product which has the Vivla quality seal of quality and comes with an additional list of exclusive and personalized services such as excellent interior design, restaurant bookings, childcare or chef services among other."
The impact of fractional homeownership
Vivla combines the exclusive service of a boutique real estate agency with 5-star hotel services. "We manage the entire life cycle of the client: from finding the house to facilitating the purchase, concierge services and property management during all the years of use, as well as the resale of their holding in the future," says Ivan Rodriguez, adding: "It also facilitates the purchase of homes by groups of friends, and even the partial sale of the property by some of its owners."
Bookings are managed by an algorithm that allows equal distribution between owners during high, medium and low seasons. Vivla is currently working on an invitation-only model and has already begun operations in Madrid, Marbella, Sotogrande, Ibiza and Mallorca. It will launch in the Canary Islands, Costa Brava and Costa Blanca during the coming months, as well as in rural and mountain destinations.