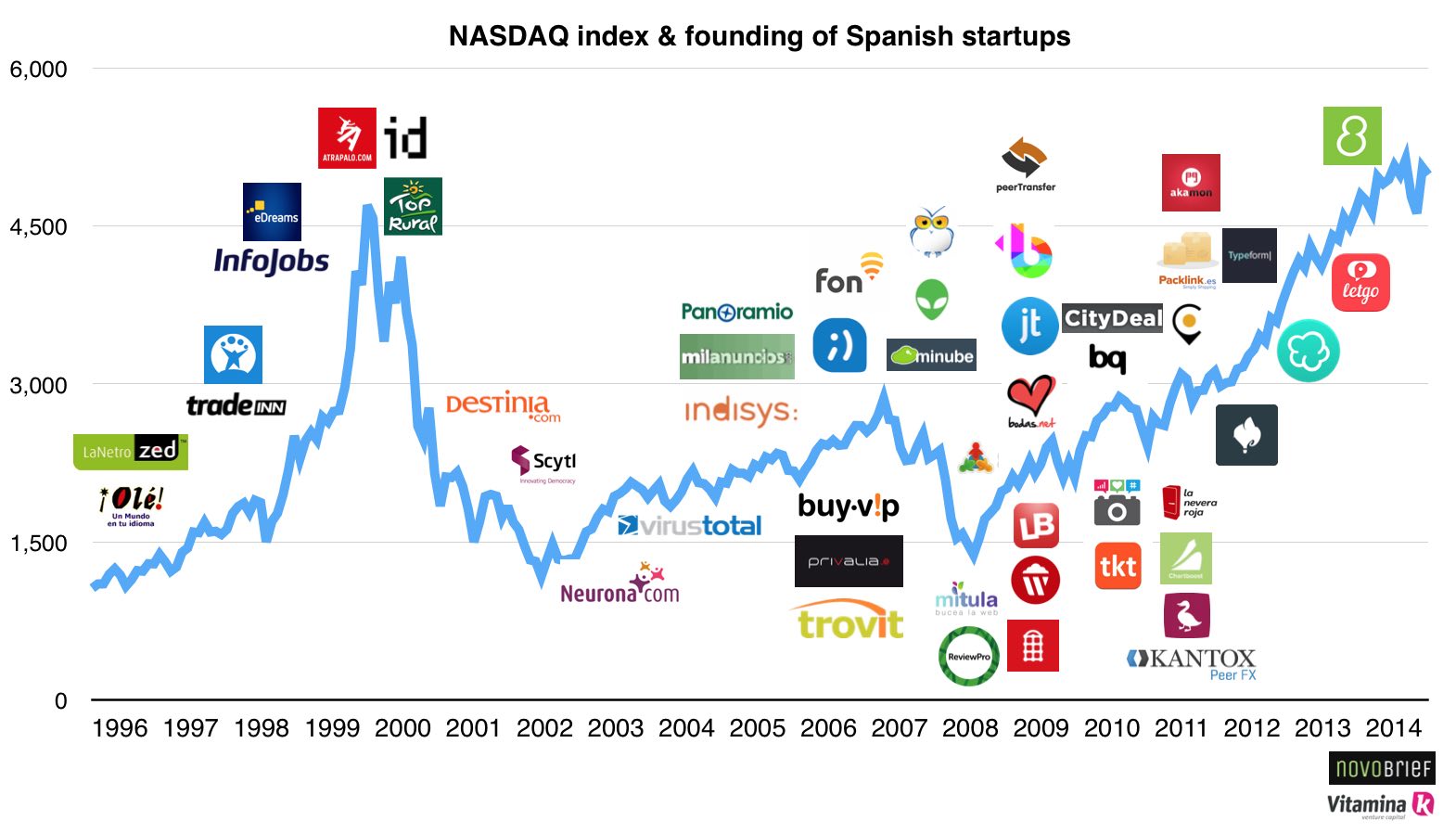 There's no better way of realising changes in an industry than building visual representations of it. A lot has been written over the past few months and years about the Spanish technology ecosystem, and many have wondered if the country has a big enough tech sector to be considered an ecosystem and if it could once compete with the likes of London, Berlin, Paris os Stockholm.
The fact of the matter is that no, Spain's startup scene is much smaller and younger than those, but since the financial crisis of 2007 we've seen a significant explosion in the number of startups being created, which has been followed by an also exponential surge in the number of investors and VC firms in the market and the capital available for technology companies.
When it comes to Spain, it's often said that five years ago VCs could choose in which startups to invest, and these days, in theory, good and growing companies can choose which local investors to bring on board.
From Cluster Consulting to the dotcom burst
It's not easy to pinpoint the beginnings of Spain's technology ecosystem. However, most in the industry consider Barcelona-based company and consulting firm Cluster as one of the earliest and most successful tech enterprises in the country. Nonetheless, and as Mar Galtés explained in this very good article, the company served as a source of entrepreneurs and investors (Nauta Capital) that went on to build companies in the next decade. Something similar also happened with Grupo Intercom.
Cluster Consulting was born in 1993 and was sold to Diamond Technologies in 2000 for $1 billion. Fast forward a couple of years from Cluster's origins and one can start to see a significant increase in the number of early tech companies being founded in Spain.
Ole, Lanetro ZED, TradeInn, Softonic, InfoJobs (Schbisted) or eDreams (IPO) are clear examples of this. A handful of big companies that were created over a four year span that were joined by the likes of Atrapalo, idealista (Apax Partners) and Toprural (Homeway) right in the middle of the dotcom bubble.
Although its burst mostly affected US investors and companies, its effects were heavily felt all over the world and in most technology scenes, included Spain. The graph that illustrates this article clearly shows that from 1999 to 2005, the year when companies such as Panoramio (Google), Milanuncios (acquired by Schbisted) or Indisys (Intel) were created, there wasn't a whole lot happening in Spain.
The fact that there wasn't much activity doesn't mean that good companies were not created in those years. In fact, in 2002 Scytl was formed as a company and since then it has become one of the biggest success stories to come out of Spain and a truly international company from day one.
In 2008, right in the middle of another financial crisis, Sequoia Capital circulated 'RIP Good Times', a presentation in which it cautioned investors and companies about what was about to come: a period in which capital available in the market would drop and many companies with unstable and unscalable business models would suffer.
Interestingly, from 2008 to 2010 Sequoia made some pretty good investments in companies like Airbnb, Greendot (IPO), Dropbox and OpenDNS (acquired by Cisco for $635 million this year). Sequoia made the same number of investments in the 15 months prior to the 'good times' than after. It's called consistency.
High production of companies between 2006 and 2011
In Spain we did not have such hard times in 2007 when it comes to technology capital markets, but a visual representation of the companies being created over the past 19 years also shows that 2006 to 2011 was an amazing time for startups in the country.
It was in this period of time when startups such as Privalia, Trovit (Next Co), Buyvip (Amazon), Tuenti (Telefonica), AlienVault, UserZoom, Mitula (IPO), Wuaki (Rakuten), peerTransfer, Jobandtalent, bq, Kantox, Packlink, Akamon (Imperus Technologies), Ducksboard (New Relic) or La Nevera Roja were created.
A handful have already exited and most have raised significant rounds of funding with an international mindset from day one. As Iñaki Arrola once wrote, technology companies are not created overnight and success takes time and patience.
Frothy times have continued, and from 2012 to today the rate of new companies doesn't seem to have stopped, including relative and early successes like CartoDB, Typeform, Wallapop, Letgo or 8fit.
This surge in companies has been accompanied by a significant increase in the capital available from local and, most importantly, international Venture Capital firms. Last year we saw more foreign VCs than ever before back Spanish companies, and it seems as if this year the record will be once again broken.
With abundant capital at the early stage, international VCs currently provide the necessary capital for mature and high-growing international businesses to scale. As James Cameron from Accel Partners recently told us, the iconic firm has made 5 investments in Spain this year, more than in any other European country.
All of this does not mean that it's all fine and dandy in the Spanish technology ecosystem and that it can now look in the eye of London, Stockholm or Tel Aviv. But the formula continues to improve and hopefully many of the companies that were created in the last decade will prove to become success stories in the next few years. It's just a matter of time.
Disclaimer: Iñaki Arrola of Vitamina K contributed to this post with Crunchbase-sourced data and company suggestions.