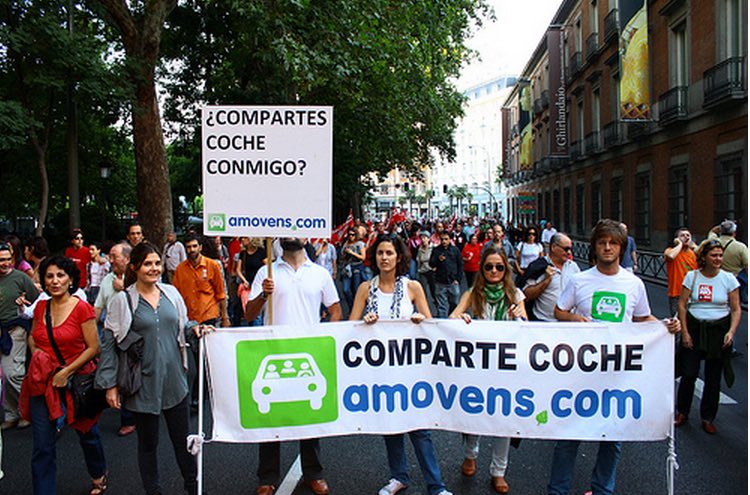 Spanish car sharing platform Amovens has been acquired by GoMore, a Copenhagen-based company that operates in the same sector and which also offers P2P car rental services. Terms of the deal were not disclosed.
The story was first published on ArcticStartups and was later confirmed by an Amovens spokesperson to Novobrief.
Amovens, a local competitor of BlaBlaCar, was founded in 2009 by Diego Hidalgo. In a conversation with Novobrief, Diego says that the deal is the result of "long conversations" between both companies and that the deal was positive for all parties involved.
It's not clear whether the company had raised any funds from institutional investors prior to its acquisition by GoMore, but given the list of members of its board, it's not hard to imagine that the company was well funded.
According to its website, various Spanish executives were part of its board:
Eduardo Díez-Hochleitner: former CEO of 20minutos
José María Figueres Olsen: president of Costa Rica between 1994 and 1998
José María García: formerly of Google and Mediaset.
Diego Hidalgo Schnur: who was part of the founding team of Prisa and father of Amovens' CEO Diego Hidalgo.
In late December the company claimed that the "activity" of its user base had increased by +1,700% compared to 2013, with 1,000 new rides being published every day and more than 3,600 contacts between drivers and passengers. According to an official statement from GoMore, Amovens currently has 220,000 users.
As BlaBlaCar, the company offers drivers the possibility of filling empty seats while sharing expenses. Amovens does not charge a commission to its users, as it monetises its platform via sponsorships and "pro solutions" for companies, universities and government agencies.
In December, the company told Novobrief that it was planning to launch a B2C model. "But never with the intention of charging a commission to users, like our competitors do", a spokesperson said at the time.
GoMore is one of the first car sharing platforms to be launched in Europe. Founded by Matias Dalsgaard in 2005, it recently expanded to Sweden and Norway, combining for more than 250,000 users. BlaBlaCar, on the other hand, has more than 10 million users in 14 markets.
Spain is the first non-Nordic market for the company and it seems like it will keep the Amovens brand around. To date GoMore has raised about $2.5 million, from the likes of Kasper Grundtvig or Jesper Buch, co-founder of Just Eat.
According to ArcticStartups, GoMore's short term plans include the launch of a P2P car renting platform in Spain under the Amovens brand, which would compete with other local companies like SocialCar. Diego confirmed the news to us, claiming that "we're going to diversify our business while we continue to build a transportation solution that adapts to current times".