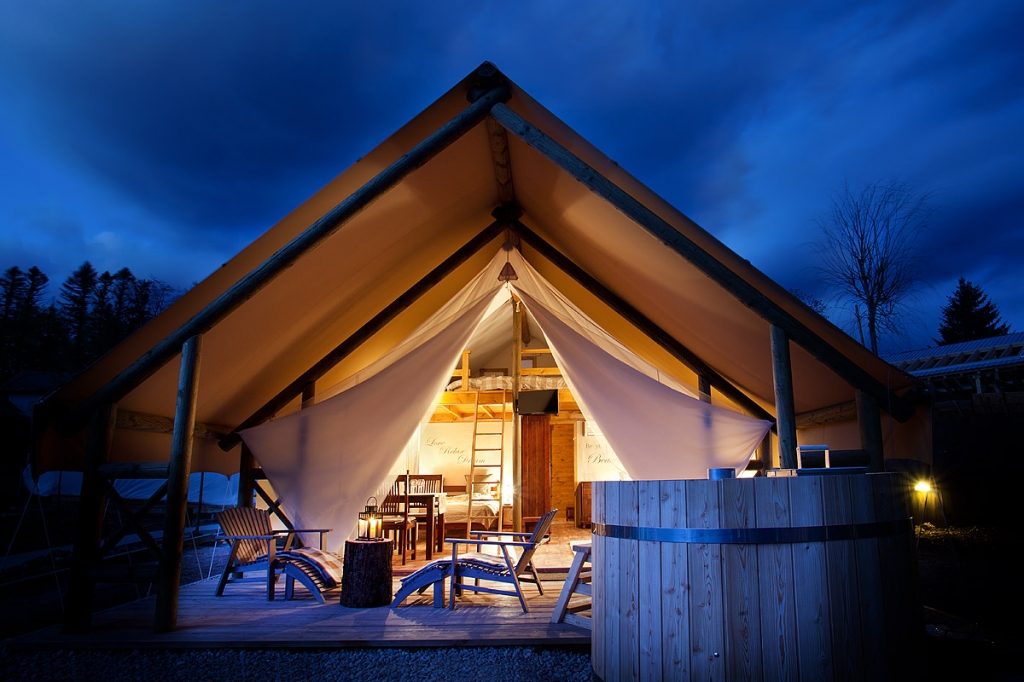 Glamping Hub, the Seville-based startup co-founded by David Troya, Rubén Martínez and Talal Benjelloun, has raised $1 million in a round led by Spanish firm Axon Partners Group that included the participation of other investors. The startup had previously raised €230,000 from various business angels and this round is the first one in a series of rounds that will continue to include Axon's participation.
David Troya came up with the idea of Glamping Hub while he was studying a Masters in San Francisco. "I remember seeing people left and right building startups, and this pushed me to give it a try and build something myself", David tells me in a phone conversation.
The startup, which was born in San Francisco but moved its headquarters to Seville in 2012, started as a hobby for David but he soon realized the opportunity he had in front of him. Glamping -also known as glamorous camping- was taking off in countries like the US and UK but there were very few directories online.
"Back then there was a directory for UK glampings with around 2,000 properties, but it was only focused in the region and we wanted to build something international from day one", he says. Glamping.com also works as a directory, but it doesn't allow customers to make bookings through the site.
A big market and Glamping Hub wants to seize it
In similar fashion to Airbnb, Glamping Hub allows property owners to advertise their glampings on the site. The startup first started charging owners a fee for showing up on its search results, but soon realize it was not the right business model if they wanted to grow fast. Since then Glamping Hub keeps a 10% commission on each transaction that takes places on the platform, taking a 6% cut from customers and 4% from owners.
According to the company there are 45,000 glampings around the world and only 2,000 of those are currently on Glamping Hub, thus the opportunity for the startup. "Demand is much higher than supply in this market", David tells me, "and we want to provide the perfect destination for those looking for this kind of properties".
Although the startup was founded in 2012, it only recently started making money. David didn't want to disclose revenue numbers, but did indicate that the average booking made by customers through the site is $450 and that 75% of Glamping Hub's customers are in the US.
Money in the bank. Now what?

Glamping Hub is the third travel startup in Axon's portfolio, along with ByHours.com and Hot Hotels. The money comes from the €10 million fund raised by Axon in March 2014 (ICT II) from private investors and the Jeremie initiative in Andalusia, which probably required to invest a significant percentage of the funds in the region, where Glamping Hub has its headquarters.
In a statement the startup claims that this investment will allow them to establish its brand in the US and improve its mobile offerings. Glamping Hub doesn't have a mobile app and its website is not easy to use from mobile devices.
The Axon-Glamping Hub collaboration also makes sense on a different level. Axon differentiates itself from other Spanish VC firms by having offices and people in cities such as Bogotá, Miami, Delhi and Istanbul, which could help Glamping Hub's international expansion efforts.
Choosing Seville instead of San Francisco
Although the startup took its first steps in San Francisco -mecca of entrepreneurship- David knew from the very beginning that its headquarters would be in Seville. "I had a moral debt to Spain. While I was studying I received lots of public grants and scholarships, so it made total sense to give back to the community by building Glamping Hub in Spain", he says.
Hopefully more entrepreneurs who have left our country since the economic crisis follow in David's footsteps.