We've seen how Spain is becoming an essential hub for startups to flourish due to the ecosystem in place, thanks to the synchronization between government, startups, and venture capital. 
Today we see this trend is keeping its peace, as Spain has become one of the leading contributors to the European Tech Champions Initiative (ECTI), a new fund of funds aimed at expanding Europe's venture capital markets.
The initiative, funded by the European Investment Bank (EIB) and five member states, including Spain, will inject €3.75bn into the continent's startup ecosystem, particularly into those that are in the final stages of growth.
The Spanish contribution is €1bn, the same amount as France and Germany, while Italy and Belgium are providing €150m and €100m, respectively.
Larger funds on the make
ECTI is a response to the lack of funding available to European startups when they reach the final stage of development, often when they require rounds of €100m, which few European funds can provide.
The new fund will contribute to creating larger funds that can generate the necessary amounts and, thus, reduce the number of startups that move to the US for funding.
According to Ricardo Mourinho, Vice President of the EIB, startups often choose to settle in the US because of a lack of funding in Europe.
"ECTI is a response to this situation. It is €3.75bn that will help generate larger funds and potentially larger investments", he explained during a panel titled "Decarbonised economy: financing, impact and success stories" at the MadBlue summit in Madrid.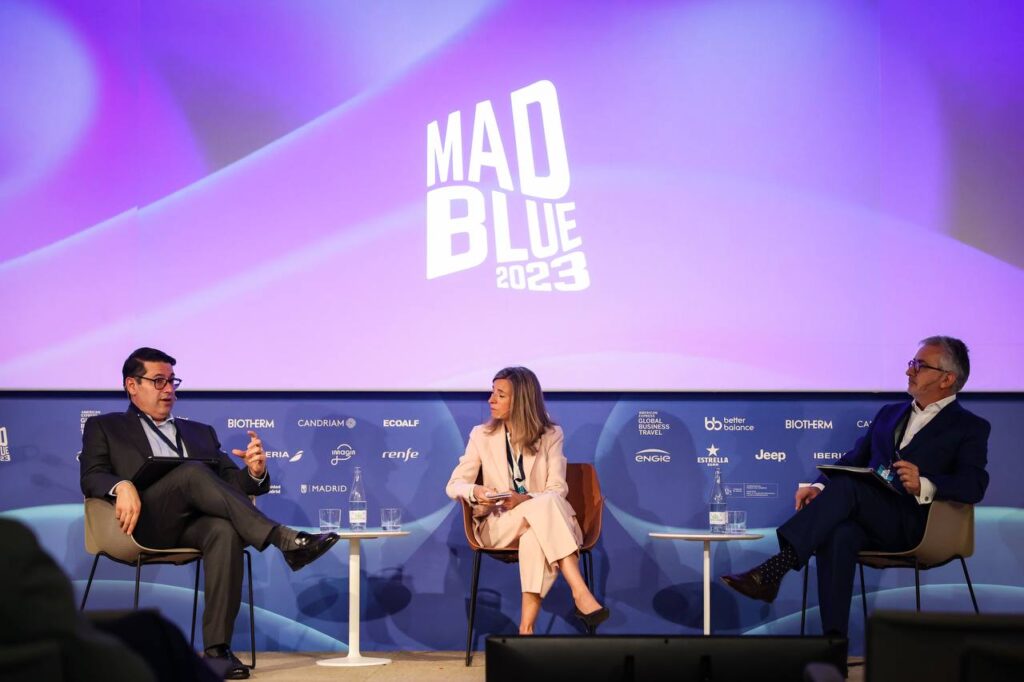 ECTI will provide significant investments in large-scale venture capital funds that will, in turn, invest in European technology champions.
The initiative is a crucial part of the pan-European Scaleup Initiative, launched last year to support innovation, entrepreneurship, and high-tech ecosystems in Europe. Reducing the investment gap could create many highly skilled jobs and boost growth.
Jose Zudaire, CEO of Spain's primary venture capital association, SPAINCAP, highlighted Spain's positive attitude towards capital markets, despite the rising interest rate environment.
"We come from 2022 with over 930 operations. There is still liquidity, and players are still opening offices in Spain," he said.
Elena Gauter, General Manager of the Candriam fund management company for Iberia and Latin America, emphasized the need to create the conditions for European startups to remain in Europe. "That gap makes startups that have grown here want to leave," she said.
The Europe VC problem
ECTI will help deepen Europe's venture capital markets by closing gaps in funding availability, especially for companies seeking to raise more than €50m.
It will also create an asset class for European institutional investors to diversify their portfolios, thus maintaining a steady flow of funding for emerging European companies.
This positive self-sustaining dynamic in the European high-tech landscape will encourage innovation, attract talent and help build globally competitive companies.
The initiative is a step towards addressing the challenges facing Europe's venture capital markets. According to a report by Invest Europe, in 2021, €12.6bn was invested in European startups, compared to €38.5bn in the US.
However, the report highlights the high growth potential, as only 22% of venture capital is invested in Europe, compared to 43% in the US. ECTI could be the solution to closing this gap and retaining European startups in Europe.
Launching the European Tech Champions Initiative in Spain represents a significant step towards deepening Europe's venture capital markets and supporting its innovation ecosystem.
ECTI will help address the funding gap that often forces European startups to move to the US for funding and contribute to the creation of more significant funds that can invest in the region's emerging technology champions.